Who would be silly enough to turn down an opportunity to review chocolate? Not us that's for sure.I got sent a few bars of Chocolate & Love to try out & to give some honest feedback about. I received some Chocolate & Love dark. Now I have to admit I'm not a big fan of dark chocolate, but when your a chocolate fan getting sent any kind of chocolate you just cannot resist having a nibble!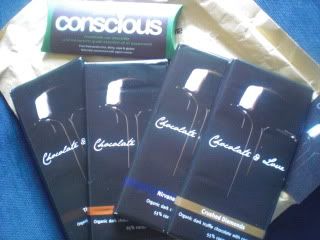 What did we think?
Crushed Diamonds – Organic dark truffle chocolate with cocoa nibs
As soon as you bite into this bar – crunch! This one was my favourite; the cocoa nibs do give you that something extra – much more interesting & exciting than a normal plain chocolate bar. It was smooth with a crunch – your have to taste it yourself to know what I'm on about!
Nirvanabar – Organic dark chocolate
If you're into plain chocolatey goodness, then this is the bar for you. Simple & sweet is the way to describe this bar. It's not as bitter as I thought it was going to be which is what normally puts me off eating dark chocolate.
Orange Mantra – Organic dark chocolate with natural orange oil
Such a fantastic fine texture to this bar, so fruity & delicious. It leaves you with a fresh aftertaste. You could easily just forget you're eating a chocolate bar and assume you're eating an orange – why not class it as one your five a day! 😉
The Coffee Affair – Organic dark chocolate with coffee
The way I summed this chocolate bar up was that it is a mug of coffee but in chocolate form! What better way to combine two of our (yes, I know there's some coffee fans out there! Especially you rocking back & forth because you've not had a cup yet!) favourite things – Coffee & Chocolate. Such a great way to get your coffee fix.
Conscious Chocolate – RAW mint hint
Such a soft, delicate chocolate bar, definitely one for big chocolate fans that do like to experience all those different chocolaty tastes/varieties.
But I'm still undecided to if I like it or not – I love chocolate & I love mint, but there's just something about this bar. It describes it on the website 'This bar is as creamy as it is minty leaving you with an amazingly clean and refreshing taste that doesn't overpower.' The packaging is great, handmade & kept it fresh.