Your bike might have one so why not have one for your pram, it's used more than a bike (well I know I use my pram more than my bike as it is the shed gathering dust!) Why not use it to get back into shape after pregnancy – I know a year on I'm still carrying some baby weight!

But what am I on about?
No not some miracle cure to lose weight instantly but the Strollometer which was will help you to lose that weight just as fast.

What is it?
The strollometer which was made by parents for parents is the World's first computer/speedometer designed to fit on any pram.
How does it work?
Strap the console band around the handle bar of the pram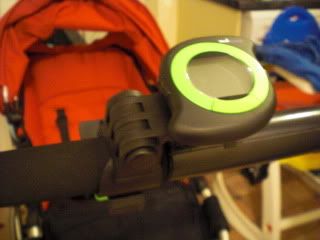 Slide the console onto that band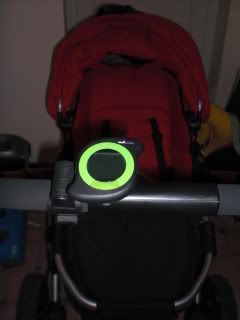 You place an adhesive magnetic strip (included) on to the wheel as directed in the instructions.
Then strap the sensor on to the pram leg and position the sensor over the magnet.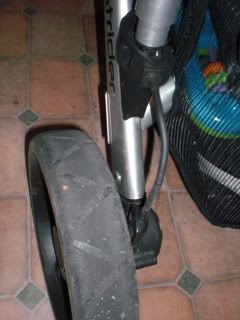 What does it do?
Well it has 8 functions:
Speed – You will always know how fast or slow you are walking/jogging/running.
Average Speed – See your average and then why not aim to increase it the next day?
Maximum Speed – It will display your max speed .. watch out for those speed cameras 😉
Trip Time – Find out exactly how long your journey took – I've discovered my baby group is only 11 minutes from my house!
Trip Distance – See how many miles you have done, it may surprise yourself with how many miles you cover on a journey into town.
Daily Mileage – Want to see how miles you have racked up in a day? Well, you can at the push of a button!
Temperature – Find out exactly how warm/cold it is in that restaurant/shop that you're going to be spending the next hour in – will baby need his coat/blanket on or off?
Real Clock Time – Why bother looking at your watch when the time is right in front of you!
You say it will help lose weight?
Yes! Watching your speed/miles and wanting to increase them is going to spur you on to walk more and more. Which of course means your walking off more pounds!
And what do I make of it?
It's fantastic, I had some teething problems at first with setting it up on my pram but popped them a quick message with which I received the help I needed. I enjoyed so much seeing how many miles I had walked with Oli in the pram; I'm not normally a fan of going out with pram sometimes having to push it all day can seem like a chore, but this made it interesting & enjoyable. I don't normally wear a watch so usually have to hunt out the mobile when I want the time so having a clock right in front of me came rather handy. I was the envy of all the Mother's at the baby group who wanted to know what my new gadget was. The other half can have his iPod gadgets, but I've got a strollometer!
It's a must have accessory for every pram! If you are thinking of an alternative gift for a Mummy to be then why not treat them to a Strollometer.