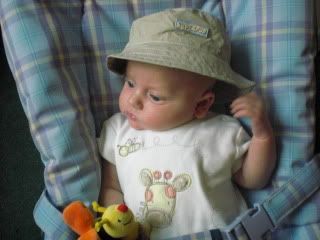 Being new to this mother malarkey means learning how to do it as you go along, my latest aspect is learning how to dress someone other than myself for the hot weather. Learning how to keep a baby cooler in this weather is much more difficult them myself, he cannot tell me if he's hot or cold, so it's down to that good old mother's instinct to know how to dress him and keep him cool. I have to admit I was baffled at first when it came down to figuring out exactly how to dress him for the summer days. Please say I wasn't alone in figuring that one out?
Now that the sun has decided to show its face, I've discovered our house gets quite warm so for around the house he's left in a nappy. I've even been brave enough to give him some nappy free time. Lots of cool baths at the end of the days along with lots of time to splash.  For outside the house, I'm armed with suncream to smother him in and a sunhat to wrestle on to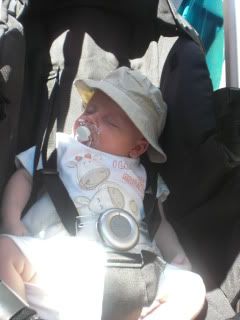 his head. I have been trying not to go out when the Sun is in his prime, for both mine and his sake. Finding shade to sit and have a chew of our fingers is much more fun than feeling like a fried egg.
I've also adjusted the pram now, so it's no longer in its carrycot mode which was perfect for when he was a baby, but now he's getting taller and the weather warmer, it's probably will benefit him more being in the pushchair mode. The pram still reclines, so I'm happy with knowing that he's still comfortable when wanting to nap. This is just another step away from him no longer being a newborn; the fact he holds his head so well and is becoming more aware of his surroundings is telling me we're moving away from the newborn stage.